KwaZulu Natal
Staff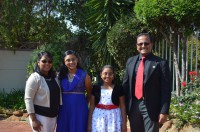 Ashby and Pearl Kurian
Provincial Directors - KwaZulu Natal
Ashby Abraham Kurian, together with his wife Pearl, have faithfully served CEFSA since 2008 as full-time missionaries starting in Merewent, Durban, KwaZulu Natal. From 2008-2015, God has used them to build the work of CEF in Merewent, through working closely with the local primary schools, St. Monica's Childrens Homes & home-based Good News Clubs in the communities. In 2016, they shifted into their next area of service - Chatsworth, Hillary and the surrounding areas of Queensburgh.

In addition, they are serving as the CEF KZN Provincial Directors working together with a team of Mark & Roxanne Shingleton, Rosemary Jacobs, Sharlene Pillay, Shaun & Nicole Marais, and over 50 volunteers throughout KZN, they are reaching over 50,000 children on a weekly basis through:
Crèche Good News Club
Community-based Good News Clubs
CEF primary school assemblies and After-care Good News Clubs
Distribution of wonder books in schools
Orphanage Good News Clubs
Regular School Class
Party Clubs
Sunday Schools and Junior Youth CEF programmes
Open Air Evangelism
Radio Ministry (GNCR)
From 2009, God has opened 16 schools in Merewent, Chatsworth, Hillary and Queensburgh to the work and ministry of CEF. They have seen the relevance of CEF and what it provides to the learners as well as the staff. In addition to the above, God has opened doors to successfully counsel troubled learners as well as educators.
Under their personal supervision, they monitor over 50 Good News Clubs (similar to wayside Sunday Schools) that take place in communities, schools and creches in areas from Sezela to Merebank & Wentworth to Chatsworth, Phoenix, Hillcrest, Veralum etc. They eagerly desire to start more clubs throughout KZN esp. in Port Shepstone and Richard's Bay but NEED CHRISTIAN CHURCH-BASED VOLUNTEERS to train and eventually hand over the clubs once established. If you are interested in starting a club in your area, please contact them using the details below.
They have conducted trainings for Sunday School teachers from various churches throughout KZN and also in-depth training for those who wanted to become Good News Club Teachers, teaching the children in their neighborhood. For the latter, they even CEF material FOR FREE to assist in their ministry.
In addition to the above, God has opened doors for Ashby and Pearl to promote the heart of God towards children in churches and government bodies, the latest being to address a tribunal of the BCCSA of how media affects children.
Ashby and Pearl live in Hillary, together with their two daughters Abigail and Sneha.
Contact Details:
Phone: +27 31 463 1992
Cell: +27 84 232 0530 (Ashby)
Cell: +27 84 572 6061 (Pearl)
Email:
ashby@cefsa.co.za
---
Rosemary Jacobs
Local Director - Durban North
Rosemary Jacobs is a full-time volunteer and the Local Director of CEF in Durban. Her heart and passion is to minister to children and she has been doing just that for many years. Her ministry is from Chatsworth through and including the greater Durban area.
In addition to her weekly Good News Clubs in the communities and schools, she also presents Good News Club on radio through Good News Community Radio (93.6fm) which covers a great part of the Durban area. Alonsgide teaching rh children, she also gives useful teacher training on air that has benefiited many people.
Contact details:
Cell: +27 72 280 6077
---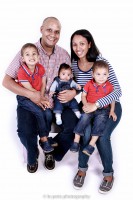 Shaun and Nicole Marais
Local Workers - Merewent
After serving as the assistant and youth minister of Wentworth EBC church in Wentworth, Durban, Shaun and his wife Nicole are the newest members to join the CEFSA team. Although his wife is currently serving only a volunteer, she has faithfully served as a Good News Club teacher alongside her husband for the past years.
Currently, Shaun serves the 10 government primary schools in his area of Merewent, ministering to over 6000 children. In addition to their local Good News Clubs, Shaun and Nicole teach at St. Monica's Childrens Homes.
Shaun and Nicole have three sons, Oliver, Micah and baby Joshua.
Contact Details:
Cell: +27 76 767 7039
Email:
shaun@cefsa.co.za
---
News
3 Search Results found
CEF is on the Radio
Durban

If you find yourself in the greater Durban area, tune into 93.6 FM, Good News Community Radio.

Full report ...

(Date Added: 2008-04-16)
---
Good News Clubs
In KZN

Good News Clubs Back in Vryheid!

Full report ...

(Date Added: 2008-04-16)
---
Teacher Training
In KZN

Here are a few of the comments from some recent attendees of the seminars ...

Full report ...

(Date Added: 2008-04-16)
---
Results 1 to 3 of 3
Events
No Search Results found